Page 1 of 3 • 1, 2, 3
Spoiler:

The Mission: Biran, Son of Ulf
Level: 1
Employment: Origin, Biran
The Details: Just an outing between a man and his young son, preparing him for his coming of age ceremony.
Required Items: N/a
Required Talents: N/a
In a desolate and uncharted corner of Australia lived a tribe of people; people that were born there or came there to seek a minimalistic and simple lifestyle. Many were even outcasts from other countries, supernatural beings who were better off here living off the land than they were, wherever they came from. The leader of this tribe of people was a man called Ulf. The people there respected him, for he was strong and wise for his youthful and vital appearance. In recent years he had welcomed a new son, nine and a half years previous to this day to be exact. His son, Biran, had spent many years with his mother who's visits were seldom, as her kind was not typically welcome above the earth's surface. As Biran would grow old enough to part from his mother, Ulf insisted he take care of the boy and teach him to be as strong and able as the man who sired him. There was very little protest and here Biran was, stuck with dear old dad. He didn't loathe his father as much as he would in years to come, but Ulf's way of teaching was as harsh as lessons learned in the wild. Nature could be a beautiful yet cruel thing, but then there was Ulf, only showing the bad in a situation and never the good. At least not that Biran could see in his young and restless stages. Truth be told, Ulf was never a bad father. Just one that could have afforded to cater to his son more, perhaps.
On the morning of this day, a few months before Biran was to turn a full decade old, he'd walk into his father's room of the bungalow they lived in, that his father built himself by hand. Upon entering, there his father was, slumbering well into the morning with his harem of women adorning his restful position. Biran would huff and march up to his father's bedside. "Dad, come on. You promised you'd take me out to hunt today. You said we had a lot to do today." He tried to be quiet about it, and polite as he could be with several other people in the room. Biran knew better than to disrupt a man and woman when lying together in throws of passion, but this was not one of those circumstances. Of course, Ulf could still wake up and decide it was that circumstance. That's what his women were there for, to cater to their alpha male's needs. But even still, Biran knew what his father said. Meet with him at sunrise. Well, Biran gave him until long after sunrise, in truth. It was noon now, and Ulf was still not up like he promised he would be. In his impatience, Biran also got a little bolder.
Ulf. King of the Untamed Wilds of Australia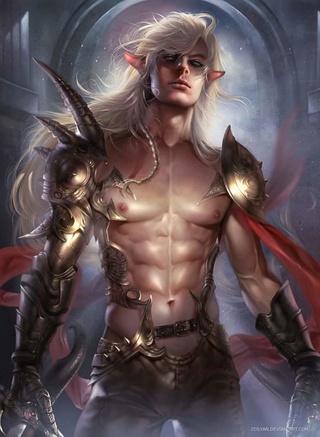 He had been waiting in his bed since before dawn. He had instructed his son to meet him at dawn to start a hunt. The coming of age ceremony has been used to weed out the weak of mind, body, and spirit. It was something most humans frowned down upon, but he and his son, and many other here, were not human. Their ways were much different. They fell back onto the very roots of life. Something that humans have long forgotten about. There was something about your first lone hunt that awoken that beast inside you; that drive to push you. Out there in the wilds, there was no one to help you. You were not a child anymore, but an adult. And such as one, you were to learn to do things with your own. It was something he knew Biran had been looking forward since coming to his father's care for years. Finally, to be treated like a man and not a boy.
Yet here Ulf lay, awaiting his young son to awaken him from his slumber. It was a simple enough challenge that he was sure Biran would be able to pass without effort. Yet, Ulf was shocked to be proven wrong. The shock had quickly turned to frustration and then disappointment. This was exactly why he had gone and taken Biran under his wing for a special hunting trip in order to make sure he was ready for this ceremony. If Ulf could, he would gladly give up his life if that mean Biran hunted him in order to pass. Biran was not ready and it was not the child's fault. The fault solely rested upon his shoulders. He has sheltered the boy up until this point and it had shown. Sure, Ulf did his best to prompt the boy to take charge, yet it seemed to be seen as Ulf was just taking it to take it. That was not the case. However, Biran never challeneged him so there he was, keeping countless things his son held dear yet did not get the courage to take it from him.
One day his son was going to great things, grander things than even him. However, today he was late.
Finally, Biran had come crawling into his bungalow with the false courage of a cub. In honesty, it warmed the older demon's heart, yet he could not show it. He had an image to keep up. If any of the other supernaturals saw weakness, they would be challenging him without hesitation. For Biran's sake, he dared not show that weakness. Biran was just a boy. Supernaturals, just like many different animals, would kill weaker young in a setting like this. But that was not the time for that. Biran had spoken, it was time to reply.
Ulf sat up and looked down at his son. He waved off the woman, leaving just the two men. Ulf gave his son a stern look before he spoke. "Biran. I had told you to come see me at dawn. Clearly it is noon. As you said, I  had much planned today, yet the entire day is wasted." He could see the protest in his son's face and quickly held up his hand. He demanded silence; he was not done speaking. "Gather your things. We will have to stay out into the night. The night holds dangers so you must be observant and listen to what I say without question. Gather your things and meet me at the village entrance. Take only what you think you might need and can carry." Ulf said no more as he got up and strode out of the bungalow taking only rope and his bow knife. Everything else was was just dead weight to this man. Walking out, he strode over to the designated spot and waited for his son to join him, worrying about what the night might bring and praying it would be kind tonight.
As his father rose to meet the fleeing morning, he gestured for his harem to leave. Biran could feel his father's disappointment already even though he didn't know what he had already messed up on. Ulf, King of the jungle, did not speak until it was he and his son alone in the room. Of course with what dear old dad was saying, it made no sense. He was the one that slept in and wasted the morning. Biran was about to protest but his father quickly put an end to his quips. Ulf then gave the next set of directions clearly, putting an end to the previous discussion. Biran would huff a bit at the closure for remarks but say nothing on that matter. "Ok dad. I'll meet you at the gates when I ready my things." And like the good boy he was, he would be off with no other words. So obedient and docile for a child that would grow to become the man he would be in another 17 years to come.

It was a short distance to his small room within his father's cozy home and mostly everything he needed was already set out and prepared for the day. His bow was already strung up with his quiver of arrows close by. He'd grab a crude handmade leather belt that held a pouch of healing herbs and another for small rations like nuts and jerky. On that belt also was a knife, best used for carving game but could help in a pinch as well. Not much else was needed to Biran's knowledge. Things to survive with and things to kill with. It was usually just that simple. Taking all his gear up and securing his waterskin to his belt as well, Biran would be ready to go and get heading out to the entrance of the village where his father was already ready and waiting. Biran would step up to him coyly and speak after a pause of silence. "I'm ready, father." Hopefully he would think the same.
Ulf. King of the Untamed Wilds of Australia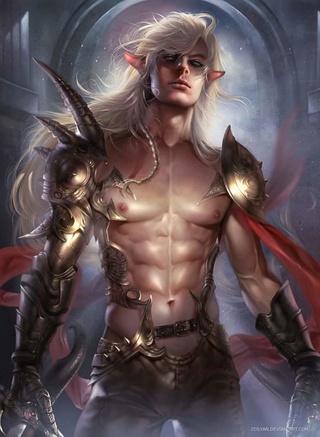 His son did as he was told and had returned to him without much of a fuss. A gentle eye would be cast upon Biran a moment before glancing out to the wilds of Australia. These lands were dangerous yet beautiful. One wrong move and his son could be dead. Not something he wished ever. But no time to look weak now. It was time they were off. Looking at Biran with all his little pouches made Ulf smile, but he hid it in a laugh. "You look prepared. Well, if you are ready, then we'll be off. This will be the last time you see your home for a while. Make your peace. The next time you venture out as far as we are going, it will be alone."
And so Ulf and Biran began their walk into the vast unknown. The older man's plan was to have the boy track something small. Like a rodent or even something easy like a deer. However, he would allow his son to track whatever it was he wanted. Though, Ulf was standing by to allow himself to intervene at all costs. And so, after two hours of walking, Ulf came to a stop and looked down at his son. The first two miles he knew his son would be able to do. He could run two miles if Ulf let him. But that was stamina that needed to be saved, not spent. And not the skill he was looking for at the moment. Ulf knew the land well and had come to a high traffic area that he knew many animals passed through every so often since there was a watering hole a little ways away. It was here that the older demon was going to test Biran's tracking ability.
"When you are on a hunt, you simply do not walk aimlessly. You venture to parts of your hunting grounds that have high traffic of animals, such as this one, and you search for fresh tracks. Any skilled hunter can tell if a set of tracks are fresh or old by looking at them." Ulf began looking at the ground, prompting the boy to do the same. Though he did not say it out loud, he knew his son was going to attempt to find fresh tracks before him. To prove himself a skilled hunter. He had looked the part, but now was his chance to prove he was.
___________
Roll
Tracking
or a talent like that within reason.
Biran was a bit unsettled, as if he was being evaluated by his father at all times. His father's comment on him looking prepared was a compliment, surely but it was one went unseen. What Biran focused on was the man's instructions. The boy knew his trials to manhood would be perilous, but the boy also knew that his father expected nothing short of perfection from his son. Ulf didn't just want Biran to become a man, he wanted him to put all the other boys to shame. So it was expecting of Ulf to make this challenge even greater than his actual challenge in the coming months.

And so they began trekking off. Biran was never a patient creature so walking never really suited him. It was boring and slow when all he wished to do was get to the damn point of things. But surely this was the way his father wanted to test him, and he'd play along for as long as he possibly could. Eventually they would walk up to a dip in the land that was filled with water, a prime spot for animals coming in and out of the area. That's when Ulf gave his next set of orders to Biran, and he'd do just that.

Because of the man before him, Biran was very good at tracking. What Ulf was asking of him was a very easy task, one that they had went over time and time again before this day. Biran almost considered himself an expert if not for the fact that his father would never lend him the satisfaction of proper praise for the things he had tracked. Biran looked over the tracks to shop around. Father didn't say what he had to look for so Biran supposed that he could pick whatever he wanted to bring down. Looking at these tracks was sort of like shopping at the market. Most tracks were fresh, so it was just a matter of what he wanted to hunt from among the available prints.

____
Proficient Talent: Tracking
The member '
Biran Everard
' has done the following action :
Dices roll
---
'Proficient' :
Admin




Posts

: 140


Join date

: 2017-06-01

Profile
Health:


(1000/1000)


Level: 20
Faction:


Ulf. King of the Untamed Wilds of Australia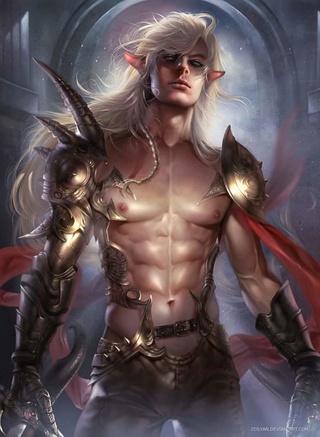 Biran had seen many different tracks, many of them new and easy to follow. The three that jumped out at him the most were
DEER
, an
HARE or RABBIT
, and a
DINGO
. All three sets head in different directions. Once you have selected one, Ulf will follow you after your quarry. He will remain silent as you are the one who seems to be wanting to hunt this animal, not him. So for now, he shall remain silent. Ten minutes will pass as you follow the tracks of whichever animal you decide to follow and the tracks are harder to find as they are not as evident anymore. Once again, Ulf says not a word as he dares not break your concentration.
___________
Biran will have to roll the same roll once again to continue to follow these tracks.
Biran looks among the different tracks. His choice right now would be as important as the fact that he could even bring the animal down. Simple hare were out of the question, they were not a practical choice as they did not supply enough resources. Dingo were a viable choice, they had fur but had meat that wasn't very tasty, but the more killed would mean the less in the villages livestock. Deer were a better choice as they supplied food and great skins that were versatile, and if you found a buck with horns they could be used for a lot of things. He didn't know what would impress his father more, but he would go for the deer, as it would be the most useful after the hunt is said and done.

He'd follow these tracks until the tracks seemed to disappear. To the keen eye, they were still there, just not as evident as the ground was dry and the terrain was rough. Biran wasted no time as he knew he could get back on the trail.
____
Proficient Talent: Tracking
The member '
Biran Everard
' has done the following action :
Dices roll
---
'Proficient' :
Admin




Posts

: 140


Join date

: 2017-06-01

Profile
Health:


(1000/1000)


Level: 20
Faction:


Ulf. King of the Untamed Wilds of Australia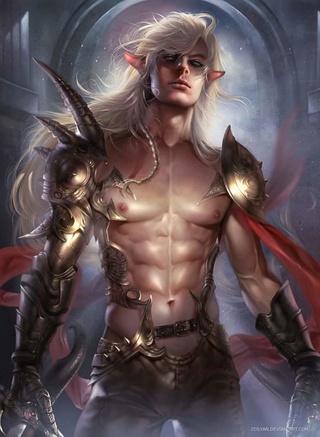 Of the three choices, Ulf was honestly shocked his son did not go after the Dingo tracks. Though, he should not have been so shocked. A deer would provide meat, fur, and a list of other different things. A dingo was not a sweet meat to eat and only stood to gain fur and a nice looking pelt than anything else. Though, it was a harder quarry to obtain. A deer could have been seen as a slight in one's hunting if people were only out to hunt dangerous animals. However, Ulf was satisfied with his choice of the deer. It would prove enough of a challenge for the young man. Though, Ulf was curious as to what Biran's thoughts were upon picking this game rather than the other two. As a grader upon this hunt, Ulf needed to know what went into the thought process.
"Tell me, Biran. Why did you decide upon the deer over the other two. Speak honestly, but softly." There was no need to have Biran shouting his answers across the fields. Or rather, the thicket. The deer had taken cover after returning from the watering hole. A smart animal. It had managed to survive a possible attack thus far and so safety was needed. However, as most things do in this world, its life was coming to a quick end. But for now, Ulf followed Biran and waited upon his answer to the question.
Page 1 of 3 • 1, 2, 3
Similar topics
---
Permissions in this forum:
You
cannot
reply to topics in this forum