Page 1 of 2 • 1, 2
Mission Detials:

The Mission: Bagging up the Evidence
Level: 1
Employment: TCPD
The Details: There has been a string of crimes at three different homes. We're assigning you to a team in order to get some experience. But so you aren't in the way, we're just letting you bag and tag anything your senior member(s) tell you to. Don't even sneeze without their say so, got it?
It was Harper's first ever on the job training. She had learned as much as she could in theory and in practice, but this was the real stuff! She would go ride with someone or a few someones, look at all the evidence, track down the bad guys, and then bring them in! It was fool proof! But that wasn't her job. She was simply there to observe. Captain Prince had told her to meet her team member(s) out in the parking lot and be briefed on what it was she was actually doing. Or rather, what kind of crime scene they were stepping into. Whatever it was, she was ready to deal with it. She already knew that not everything was rainbows and sunshine.
Taking in a deep breath, Harper suited up from the TCPD locker room. She strapped her gun in its holster, she packed her extra magazines where they were kept on her pockets, and filled the remaining with everything else she needed in order to do a good job. She wanted to make a first impression that was good. Whoever she was working with was going to get stuck with her again at some point in their life time here at Twin City Police Department. Better make it a good meeting. But enough beating around the bush. Time to get out there!
Harper walked out to the parking lot and walked up to the police car that was obviously waiting on her. Standing at attention, Harper introduced herself. "Officer Fairfax, reporting for duty." It was a bit weird to not salute, but it also felt weird to do it. So she had decided upon not. This was not the military. She wasn't saluting an officer. Just a police officer who was mentoring her. regardless, she continued. "So...what is it that we're investigating? A murder scene? Theft?" Honestly it could be anything. But it would be her luck to get stuck on a murder scene right off the bat. Unfortunate, yes. But it was something that has been going on in this city for longer than she was alive. This was why she wanted to be a cop. So she could stop things like senseless murder from happening.
Michael Bastian, TCPD Sargent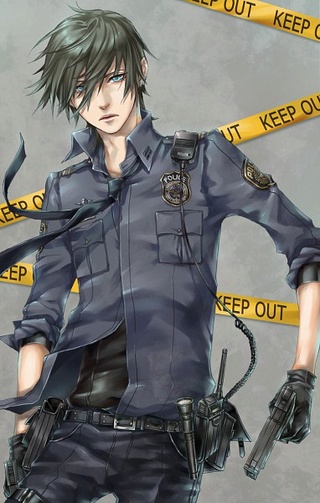 He was assigned to wait for the new girl, fresh on the job from the police academy. Harper Fairfax? As he looked at her file the more familiar she seemed to him for some odd reason. Had they met before? Highly unlikely. But it was no matter, he could see the new recruit coming in now. She reported to him all official, like a someone fresh from the academy did. Michael would wave it off and chuckle softly. "Easy, Fairfax. No need for that, alright? I mean, not for me anyway." He'd clear his throat then. "I was just like you when I first signed on. Only about a year ago now actually. I'm sure you'll do fine here, so don't worry yourself too much. The job's easy right now, we go drive over to a crime scene and meet with a lot of the first responders. No big deal." Maybe he made it sound easy, but whatever took her nerves off. He'd get into the drivers side of the police cruiser then and wait for her to situate and buckle up before he puts the car in drive and starts making their way to the scene. "You got family in town, Fairfax?" He asked the question merely to break the ice. He supposed keeping her talking would help take off the edge of her first dispatch.
Ah....not the best first impressions after all...okay...oh well. None the less, it wasn't a bad start. So she had her edges that needed to be softened. As he said, she was fresh from the academy so as all the movies show, it shows. Eventually she would not feel as awkward, but for now, she just needed to make it through this first assignment and everything would be a okay. Yeah...

Hoping in to the passanger's side of the vehicle, Harper buckled up and smoothed her pants out. It was just a car ride. As Sargent Bastian said, there was nothing to worry about. Just see what was up. Thankfully, he was starting up small talk. Okay, that was an easy task for her to talk about! She smiled over at him. "Yes. Yes actually I have a lot of family out here. Rather big extended family. Though, I guess that tends to happen for the supernatural folks, huh?" She would laugh and tuck some of her hair behind her ear before she continued. "But no really. If you're asking if my parents are around, yeah. Mom's a lawyer and dad runs in politics. I have two older brothers as well, making me the only girl and last child."

While it wasn't against the law to say her great grandfather was Travis Valentine, it just was...not good for a cop to have that rap. Or at least that was what her Uncle JT continues to say. If only the department understood how nice of a man her Fafa was, it would solve a lot of problems. But that was for another time. Her head needed to be on this case. And she needed to know the details. "So. Give it to me straight, sir. Exactly what are we stepping int? Do you know?"
Michael Bastian, TCPD Sargent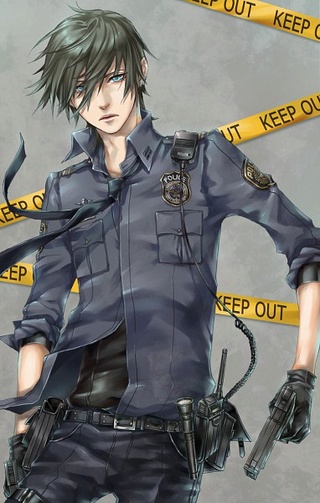 "That's cool. Glad to hear you aren't far from home then." Michael wont say a whole lot after that, just sort of pondering to himself. He'll sort of be perplexed at the word 'sir' but will just shrug it off and roll with it. "We're going into an murder scene. We need to collect evidence so that we can piece together everything that had transpired before, during, and after." the car will start rolling to a stop then and Michael will park the car. "The heavy bits are cleaned up at this point. Just chalk lines and blood, that's all that's left of the victim." He'll get out of the car then and look to the parking lot. "And this is the nice side of town too. Nobody seems to be safe in this town anymore." Michael will sigh and approach the building. "It happened on the roof so we'll have to climb a few steps. Elevator's secured for now until we can do a clean sweep of it."
______
Harper must climb 15 floors at this time. Roll
Endurance
or a similar skill, if applicable.
A murder. Of course it was a murder. What else would it be? Someone had come into this apartment building and did something unspeakable. Whatever the first responders found, the two of them would be looking at. Other than the dead body that was. And hopefully that wasn't too much of a wreck. Whoever did something as terrible as this was surely going to pay for their crimes! Though, the thought of the dead body being someone she knew was heart wrenching. But...That was fine. She was going to see things like that all the time. Better get used to it, right? Right. The two had made it to the large apartment complex. It was almost as tall as some of the buildings downtown. Okay, not a problem, ja? Get to the top and then start bagging and tagging. Everything was a okay. That was, until Sargent Bastian said that they had to walk up the stairs due to the elevator being secured.

Her first response was to laugh awkwardly at the thought of that they had to climb all fifteen flights of stairs. But when she looked at him and he wasn't laughing, she knew he was being serious. Okay. Just have to suffer through it. It was just more training, ja? Ja. Nothing she couldn't handle! "Alright, then lead the way. I'll be right behind you." They were just stairs, how hard could they be?"

---

Stair Climbing: Unproficient
The member '
Harper Fairfax
' has done the following action :
Dices roll
---
'Unproficient ' :
Admin




Posts

: 140


Join date

: 2017-06-01

Profile
Health:


(1000/1000)


Level: 20
Faction:


Well, this is awkward.
Harper gets up the stairs at her own pace and is gasping and heaving for air by the time she catches up to Michael. He waits at the top with his hand on the door, letting her collect herself before she presents her to the team that was working up on the roof where the murder had happened. Once ready, you walk outside into the cool air. Your uncle JT is on the roof, guarding the taped off line. Currently he is talking to a witness. Beyond the police tape are a few investigators. Michael begins walking over to the line, he'll nod to JT in quick greeting as he approaches.

Across the line is blood, a chalk outline, and not much else. The investigators haven't really done jack shit yet, they're just bullshitting over coffee at the current moment.
Stairs were not Harper's friend. The first say seven flights was fine. The next three winded her. The last five ended with her more or less crawling to the top. How did people walk up and down these stairs? Who in their right mind would be able to walk up without problem? Well the guy she was working with surely took them with no issue. Now she looked out of shape. That wasn't the case at all! You ask her to jump from a roof top to a roof top? Sure, she can do that. You ask her to run five miles? Yeah she has that no issue. Climbing stairs? That was the bane of her existence.

However, Sargent Bastian allowed her to catch her breath without question. He was being rather nice about this. Maybe she needed to stop worrying about this. She just...if her roommate Castien was here and he had managed to make it all the way to the top without issue, he would be laughing in her face. Maybe that was what she was expecting. But Sargent Bastian was not Cas. He was a pretty upstanding individual. A great guy to work with. And so, recovering herself, Harper followed after him without a word. If he wasn't say anything, she wasn't saying anything.

Stepping out, reality of what they were doing brought her back. Her uncle JT was standing off to the side, speaking to someone. Just like Sargent Bastian, Harper just nodded to him and continued to the murder scene. Ducking under the caution tape, Harper took a good look at what had happened. Or rather, the outline of what happened. Blood was split upon the ground, meaning this didn't go down clean. She waited for Sargent Bastian to ask for the details. She would have asked, but this wasn't exactly her assignment. It was Bastian's. And her uncle's. She was there to watch and learn. Maybe pick up on other clues. But mostly watch. So she did just that.
Sargent Bastian even waited a moment for any of the 3 investigators to acknowledge your presences. In short, it took too long. "So what's the situation here?"

"We dunno. We've been waiting for your asses to get here and report to us on what you find. So? Get working." A stuck up investigator will reply, laughing in Bastian's face afterwards.

"I don't think that's how this works..." The fuse was running short but he dare not make anymore comments before Lieutenant Valentine had to get involved. "Well. I'll help you out so no worries alright? Let's start with the easy stuff. A murder weapon and bullet casings, if applicable. We're not hear to solve a murder, we're just grabbing the stuff left behind from it. No pressure."

Roll a die for investigation or search, or another applicable Awareness talent within reason.
Harper stifled a low growl. Were they not the investigators? Were they not the ones to tell them what had happened here? Harper let out a heated huff and then looked around the crime scene. No need to get her uncle involved in this. They were all adults here. So they would deal with it like adults. And by the sound of it, Sargent Bastian was starting to get agitated by these three people as well. Well, maybe the three who were standing around drinking coffee were just lazy. Or maybe they had a bad attitude. Whatever the case was, it was their issue to hash out. Right now Harper was on the case. She was doing her job regardless of what petty thing was going on around them. A murderer was out and about and if these three idiots wanted to just waste time, by all means, go home. She wanted to waste no time.

But, Sargent Bastian had to remind her that they weren't here for the murderer. Just the left over stuff. Right. She needed to get her head out of the clouds. She wasn't hot stuff. That would be these guys. Alright, back on task. Smiling to these three, Harper spoke. "Excuse us a minute and we'll get out of your hair shortly." Her gaze shifted back to the task at hand: the crime scene. Bagging and tagging. She just needed to find some evidence. Please...let me at least find something.

_______________
Proficient skill: Enhanced Sight
Page 1 of 2 • 1, 2
Similar topics
---
Permissions in this forum:
You
cannot
reply to topics in this forum